Post by Jess on Jul 6, 2011 8:49:26 GMT -5
Stray Mutt Version 2
I had a thread up at PRU about a year ago, and got quite a ways along with creating a V2. However, I never finished it. So I wanted to see if there are any other ideas here that have not been suggested over there a year ago that I could do to fix this up a bit & make changes.
I want these to look kind of scraggly and scrawny.. but not over-the-top scrawny? The idea is that these guys were/are "strays" and are deeply effected by their time on the streets. I wanted to adopt some of these guys with flees/neglect/skinny/hunger so that they new owner needs to "nurse them back to health" after being out on the streets. haha x3
---
V1
: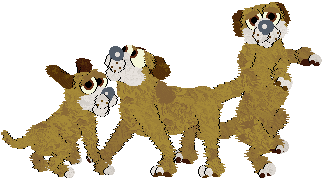 ewwie. >_0
---
V2
: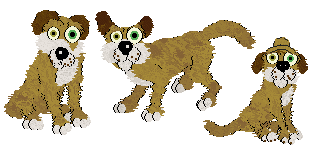 Ideas/suggestions?
I was also messing around with the eye outlines, and I was wondering if you liked the above (none)...
Both:

or right eye?:
(As you can see, I also added a white tail tip)
I might just leave outlines up to custom/make them all different though. That'll make them more unique! However, if people are going to be drawn away by some of the outlines with colors that they really like, I may choose just to keep them all the same or something?
---
Ideas/ To be Added (Potentially)


Scars / scratches

More fuzz

Skin patches / no fur? [anyone have texture in mind?]
Also open to more ideas on how to hex this >_>

Eye outline variation

Any other ideas, anyone? =3
---
I'll have a petz pix thread up when this is done.. please try to keep this thread to suggestive comments towards the file or the idea of how I'm adopting them out with neglect/etc to be raised to be 'healthy' again. I may put some of these guys up as freebies as well as a litter. I'm not going to keep them all that exclusive as of now... I mean, I'd love lots of these guys to be loved, and I don't feel like being stingy. What are your opinions of them not being paticularly exclusive? y/n? I mean, I'll make each unique & everything, I just want those who want to enjoy/own one to be able to. =3
I was also thinking about creating stories for how these became abandoned & their past as to why the way they are, or why they became strays. Some will be puppies when adopted out, and some will be adults. Who knows - maybe some will have stunted growth and be no-grows. =0 I might make a medium-sized adult or something, too. Different styles and things when they're adopted out to make each one more unique, but then allow myself to create more to adopt out to people who want to give them good homes. :3
I'm getting really excited about this idea, actually x3