Post by Kay~ on Jun 29, 2010 12:59:11 GMT -5
Welcome to Devil's catz posing guide. I'm slightly rusty myself, so if you see any issues with the advice offered in this guide, feel free to correct & update it.
First I'll be going through HOW to get a pose & what a pose is/looks like for newbies. Then I will be slowly going through the expectations for each personality depending on breed.
Methods:
My personal method:
Take out a cat. Stand it slightly too far away from the camera, so that it will "step up"; into alignment when posing. Then proceed to spam click the space bar, and inject the occasional double click to catch their attention when they do something that you don't want. As soon as they stand up, eyes wide, and jump back, prepare to snap!
Out of the door method:
This requires careful placement of the carrying case, so that when the feline runs out, they will be in perfect alignment. This is often used for tricky petz, or breeds. Be careful, though. Some judges may fault a cat that has eyelids opposing to their breed, and catz posed with OFTD will always have straight eyelids.
Perfume method:
Align your cat facing LEFT. Spray them with perfume, and then when they jump around in suprise, they may sometimes pose. This is an acceptable method of posing Orange Shorthairs - but not advised for other breeds, as it causes the "sad eyelids" which may fault your cat if it doesn't look like an Oshie.
What is a pose?:
A pose is a picture of your pet in a certain stance, which means you can compete with other peoples' petz and earn points, titles and award banners for said pet. Basically like showing a pet in real life!
What's my pose gotta look like?:
Well, for you newbs to posing, I drew a pretty picture!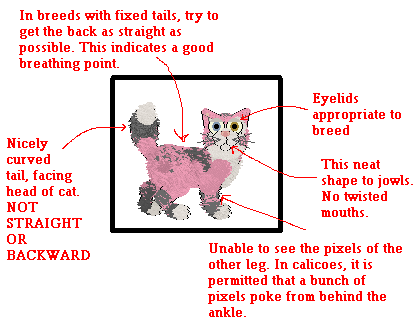 Faults for all breeds:
Age:
Well, most shows only accept Catz at age 100. Here is "Whisper" compared as an adult and a kitten in pose.


I personally accept both ages, but the adult pose is more collected and easier to judge alongside other adults. If the show doesn't mention that kittens are allowed, enter an adult!
Bad image quality:
Most judges fault or DQ JPEG images - and if you save as a BMP/bitmap, then it will be converted to a JPEG by image hosting sites like photobucket. It makes the image very blurry, and hard to judge. If you have PetzA, then you can change it to automatically save your pictures as GIF or PNG (I use PNG, but that's personal preference).

This shows how to do so!
Weight:


Here is "Whisper" at three different weights. 0, 50 & 100. Can you see how much better his pose looks at weight 50? Generally catz are very difficult to align at any other weight, and judges will fault exceptionally skinny/fat poses.
Breed standards:
If you have a cat that looks like a calico, but poses like an oshie, it's best to point it out to the judge - any cat with a personality other than its looks, in fact. It prevents being faulted.
For the sake of simplicity, I'm using catz from the adoption centre.
Alley Catz: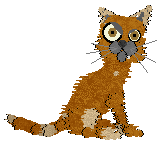 You see this no face? Well generally, it means no. They don't like to pose - occasionally, and this is rare, you will find an alley cat who WILL pose. Treasure it always. When they do decide to pose, their tails will never curve correctly. Get them as close to the head of the cat as possible, and wash your hands of it. Also, the eyelids appropriate to breed are the angry eyes shown above.
B+W Shorthair:

These catz are quite easy to pose, though they make a show of being annoyed! This was taken in literally three seconds of owning the cat. The tail should be fully curved, & the eyes "mildly annoyed".
Calico:

Calicoes love to pose... and I hate to tell them they're doing it wrong. They're notorious around the Petz Community for their "wonky eyelids" and daft alignment. Try to get the eyelids as straight, or as even as possible. A clump of pixels should be poking from behind the calico's forefoot, when in proper alignment. They love to waggle their tails around, but try to catch it curved.
Chinchilla Persian:

They may headbang themselves half to death on the way to being posed correctly, but no matter. Try to get these little monsters with their eyes open - they love to close them in the middle of a good pose! Also, they like to pause after jumping back, and then pose after a second or two. Be patient with them. Their eyelids should be showing, slightly slanted. So long as they cover less than 1/3 of the eye, it's accepted, I believe.
Maine Coon: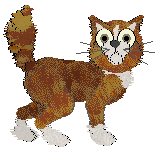 Are so overly energetic that they're quite difficult to make stand still! Once you've accomplished this however, they're quite willing to throw pose after pose. Suprised eyes are the look here, and the tail curved nicely.
Orange Shorthair:

Are very difficult to pose! The only way to pose them is to use the perfume method mentioned above - this requires a little guess work as to their alignment and takes a lot of brainslidering their "horniness" down, putting them away and taking them back out. Their eyes should look "worried".
Persian:

These fatties will usually co-operate; their tails are a bit tricky to curve, but you have to just time it right. Other than that, they're nothing especially difficult. Their eyeslids should be "tired" looking.
Russian Blue:

A breed that I recommend every newb starts out with! There is NOTHING difficult about posing a Russian Blue. They're one of the most willing breeds to pose, and their eyelids are automatically straight lines - along with this, they are incredibly easy to align. Perfect for the beginner!
Siamese: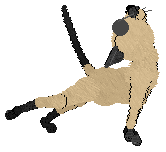 Can acchieve a normal pose via the OFTD method above, but there are pose shows specially for siamese catz! They should be placed so that the feet align perfectly, and should be stretching out completely. Also, there are "laying down" shows for siamese, but I'm not sure of the standards for these.
Neco's Note: Reduce their age to 98 before posing, as they do not align properly at age 100. This is for the OFTD method.
Arie's Note: Very rarely, siamese cats will pose in the ordinary way. But don't count on it!
Tabby:

Easy enough to pose. They're a little difficult to pose and sometimes pull stupid faces, but they're no trouble overall. Their eyes should be suprised, and their tail curved as far as possible. Try to make sure their silly fuzzy legs are aligned!
Ojos Azules: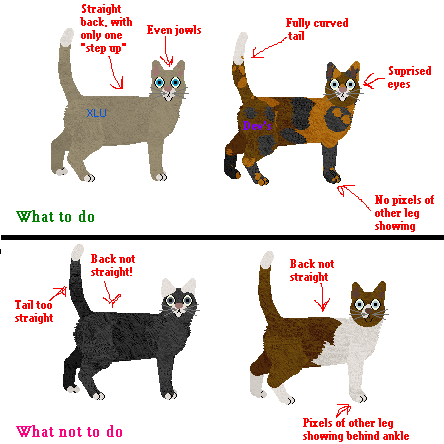 I hope that helps! If you have anything to add, please feel free to.
[/font]